Law Offices of Kathy Balin Esq
We are always on your side.
Coming soon to a courtroom near you...
We are always on your side.
Use the form below, or contact us on 609 545 0800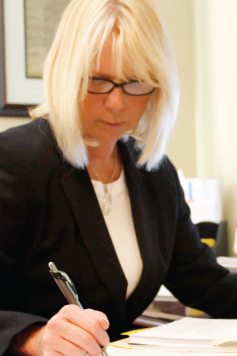 Kathy Balin Esq is a former Prosecutor who will "always be on your side."
I have been practicing law in New Jersey for over twenty years.  My practice is geared to individualized representation in criminal law and family law matters.  I have successfully represented people in municipal and superior courts.  DUI, traffic offenses, domestic violence, and criminal charges are a few of the routine matters I cover.
I cover Cumberland, Cape May, Gloucester, and Atlantic Counties.   Municipal courts: Bridgeton, Ocean City, Vineland, Millville, Glassboro, Deptford, Upper Township, and Upper Deerfield are some of the municipal courts I normally frequent.
Don't risk your case with an inexperienced attorney.
I am also an adjunct professor in the Political Science Department at Rowan University.
My practice is dedicated to representing individuals who are caught up, many times through no fault of their own, in the legal system.
A major felony conviction, without a doubt, can result in state prison so one should never face these charges alone. It is important to contact an experienced attorney immediately upon the initial charge
Even minor offenses, better known as disorderly persons offenses which are held in the municipal courts, can also be disastrous. A conviction for even a disorderly persons offense can keep one from getting a firearms permit, risk a job, risk child custody etc. No one should risk going to court without an experienced attorney for these charges as well as major felonies.
A conviction for a driving offense can likewise be disastrous.  For example, a driving offense can prevent a commercial drivers license, better known as a CDL, cause one to lose his or her job if they are a government employee etc.  Driving charges, like criminal matters, should be represented in court by an experienced attorney. Do not risk the lifeline of being able to drive by going to court alone
Driving under the influence, a DUI,  can be equally disastrous. A conviction can result in significant jail time, thousands of dollars in fines, loss of license, loss of a job, loss of child custody etc. Those offenses should be represented by an experienced attorney.
I have been practicing Criminal Law in New Jersey for 20 years.  As a former assistant county prosecutor, I handled major felonies including thefts, robbery, sexual assault, aggravated assault, and all types of drug crimes.
I left the county prosecutor's office to begin my own criminal law practice in South Jersey.  I have successfully defended clients charged with all types of crimes and driving offenses.
I am a solo practitioner who will be on your side during the entire case. My goal is to save you from a criminal record, a DWI or having any infractions on your driving record.  Driving is a life line and I will work to protect that at all costs.
EDUCATION
TEMPLE UNIVERSITY SCHOOL OF LAW
COURT AFFILIATIONS:
UNITED STATES SUPREME COURT
NEW JERSEY SUPREME COURT
UNITED STATES DISTRICT COURT
NEW JERSEY STATE AND MUNICIPAL COURTS
TEACHING POSITIONS:
ADJUNCT PROFESSOR:  ROWAN UNIVERSITY:  POLITICAL SCIENCE: 2015 Excellence in Teaching Award
1999-2000: INSTRUCTOR:  STATE and LOCAL POLICE: INTERROGATION: CUMBERLAND COUNTY
1997-1999: INSTRUCTOR:  STATE and LOCAL POLICE:  CAPE MAY COUNTY
PUBLICATIONS & RADIO APPEARANCES
HURLEY IN THE MORNING:       Topic: Domestic Violence:
OFF THE CUFF:                              Topic: Prayer in Schools:
TRAINING BOOK:   CHILD INTERVIEW SKILLS
BOARD POSITIONS
Board of Directors:  ATLA (American Trial Lawyers Association)
Board of Directors:  Family Promise of Cape May County
To Kathy: Thank you and your staff for all your hard work. I had a lot of tickets and you got them dropped. I will recommend you to everyone I know. You take so much pride in helping me with my problem. You took me step by step on what was going to happen in court. I just wanted to say thank you.

Mark Bender
My name is Justin Rabbai, and I'm writing this to show my appreciation/ satisfaction with Kathy Balin's representation. I would highly recommend Kathy Balin esq. for representation as a criminal defense attorney. My personal experience with her was very good! I found myself lodged in Gloucester county jail in 2008-2009 on a $75,000 bail due to 3 counts of 3rd degree burglary and theft, and 1 count of 2nd degree armed burglary. At first I was being represented by a public defender. It took me about 7 months to get to court and see what kind of penalty the prosecutor would be seeking. My offer from the prosecutor was 5 years N.E.R.A. After realizing the seriousness of my situation, I then started to seek private counsel. I ended up getting in touch with Kathy Balin. My next appearance in court, she had requested a copy of my discovery. Upon receiving that Kathy Balin had got in touch with me, letting me know that she would be needing to visit me. During our visit we further discussed my case. And she had informed me that she was going to file a motion for dismissal due to discrepancies in the case. My next appearance in court, my charges were getting dismissed. However I still had to plead guilty to 1 count of 3rd degree burglary due to evidence. At this point I had been incarcerated for about 11 months. I ended up making a plea agreement for a 365 day state prison term. However Kathy Balin was able to have me contracted to Gloucester county jail, and released that day! Needless to say, I was very satisfied with her representation. With all of that being said, I would highly recommend Kathy Balin to anyone who may find themselves in need of private counsel!

Justin Rabbai